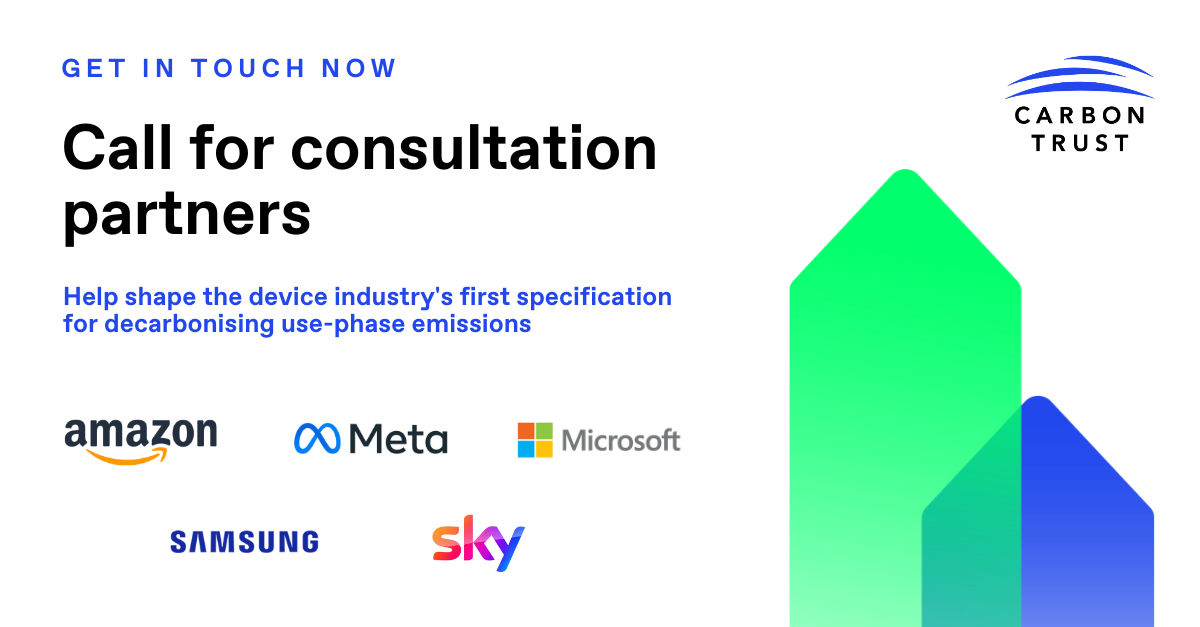 The Carbon Trust is working with leading tech companies, Amazon, Meta, Microsoft, Samsung and Sky to develop an industry-first specification for measuring, accounting for and decarbonising the carbon emissions associated with connected devices while being used by customers.
When finalised, the specification will be publicly available and applicable to a wide range of different connected devices and organisations, supporting the reduction of device-related use-phase emissions. Therefore, ensuring that sector stakeholders have the opportunity to actively feed into its development is critical.
Participating in the consultation phase will offer the wider industry the opportunity to shape the methodology early in the process and to make sure it will be fit for purpose, both in terms of data availability and applicability to different devices, as well as to flag any challenges that would prevent its adoption.
We are looking to engage with potential consultation partners via a kick off call with the Carbon Trust in September 2023 to introduce the project, its aims and how you can contribute, while the consultation phase will begin in November 2023.
Consultation partners will be asked to review the draft methodology offline, share written feedback and participate in a review call with the Carbon Trust to collate feedback.
For more information and to register for our information-sharing webinar on 30 August, click here.
Get in touch: client.support@carbontrust.com
---
Notes
Globally, connected devices, which include any device that can connect to another or a network via the internet, have an annual electricity consumption similar to that of France1. This includes devices like phones, speakers, laptops and other home appliances, which combined used 500TWh of energy in 20202.
As the number of these devices increases globally, as well as demand for data, reducing their energy consumption and greenhouse gas emissions is becoming a key focus for the industry.
A device's 'use phase', or the time it spends being used by the consumer, can account for up to 85% of its total carbon footprint throughout its lifecycle3. This includes battery-powered smart devices, and those plugged into the wall within a customer's home. Many of these devices can remotely report energy use, providing an opportunity to significantly improve accuracy of energy consumption estimates.
This latest joint commitment demonstrates the industry's desire to better understand and account for these emissions in a standardised way. The group aims to produce an accurate baseline for reporting energy efficiency improvements and establish rules for matching electricity consumption with renewable energy generation, as well as applying technology to optimise energy use of connected devices by consumers.
This means that a significant portion of the 500TWh could be reduced and additional renewable electricity capacity created. Companies will then be able to track the impact of these measures, leading to effective decarbonisation over time.
1France - Countries & Regions - IEA 
2https://www.iea-4e.org/wp-content/uploads/publications/2021/02/EDNA-TEM2.0-Report-V1.0-Final.pdf